Event Services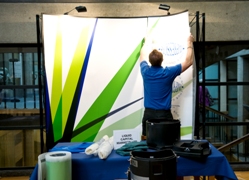 Professional Efficient Service for Employers
We understand that your company needs to be presented in a professional manner, no matter how large or small the event, and with costs of exhibition stands increasing, and budgets shrinking, the need for equipment and materials to last longer becomes paramount.
Today's exhibition stands are lightweight and portable, but in inexperienced hands they can easily be damaged. Graphics can be rolled incorrectly, vital components can be lost, and different types of stand can cause confusion when under construction.
With nearly twenty years experience in exhibitions, careers fairs and presentations, dealing primarily with blue chip companies, we have a proven track record for a cost efficient, professional service backed by a reputation which is second to none.
Benefits
How we can benefit You...
IMPRESSIONS DISPLAYS LTD is one of the main stand contractors at the Graduate, Law and AIESEC Careers Fairs. We are used by over sixty companies at numerous events throughout the year covering the UK, Europe and Middle East.
No more logistical nightmares

Independent advice and demonstrations on all makes of stand including Nomadic, Premier, Clip etc.

Production and advice on graphics

Hire of furniture, stands and AV equipment
Bring your business cards and briefcase - we'll do the rest!
Our Services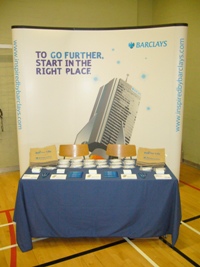 • Delivery and Construction of clients exhibition stands at venues throughout the UK, Europe and Middle East
• Free Collection at the start of the season of all materials, brochures, etc on the UK mainland excluding Scotland.
• Free Storage during the season and return of all equipment to the clients base at the end of the season
• Storage of Equipment & Materials throughout the year if required.
• Free Care & Maintenance Programme of stands during the season
• Hire of Extra stands: Nomadic, Premier, Clip etc.
• Liaise on our clients behalf with Careers Fairs and AISEC organisers regarding logistics etc.
Professional Efficient Service for Organisers
We aim to provide via the Events Diary a service for organisers of bringing events to the attention of potential attendees, and hopefully to avoid double-bookings. If you have information on an event you are planning, please E-Mail us with the details and we will be glad to include your event.