Exhibition Stands and Podiums
Pop-up Stands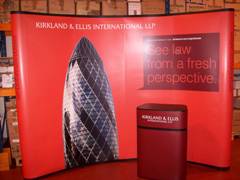 Curved, lightweight pop-up frames can be supplied with full drop graphics, podium and lighting as required. Suitable for career fairs and other presentations.
Standard Sizes:-
3 x 3 Panel (2.4m x 2.4m)
4 x 3 Panel (3.2m x 2.4m)
Specialist sizes available on request.
Technical Tip:-
At most careers fairs a space of 3m wide x 2m deep is allowed. A 3 x 3 panel stand will fit comfortably.
A 4 x 3 panel stand will have to be angled and therefore off-centre and will use up a great deal of space. The ideal size is 4m wide x 2m deep.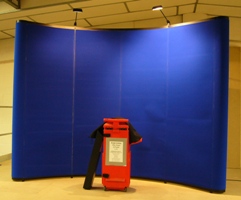 Curved, lightweight pop-up frame as above, can be supplied with full-drop fabric panels in a variety of colours allowing you to pin/velcro your choice of graphics and/or literature to the stand.
Technical Tips:-
This stand is ideal for those clients who have various scenarios, i.e. trade shows and specialised recruitment events such as IT or MBA events, and therefore need to be able to alter graphics on one stand.

Impressions can also supply a wide range of additional equipment such as lighting. You may have products or specialised material you wish to display on the stand. Shelving can be attached to some types of stands. TV Monitors can be placed in behind stands, but please note audio sound is often poor at events held in exhibition halls.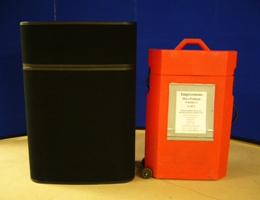 Podiums and Lecterns
A versatile product, podiums can be used instead of a table, at presentations as a lectern or for placing computer equipment on. Impressions Displays can also assist with the production of graphics to fit any podium design.