Banner Stands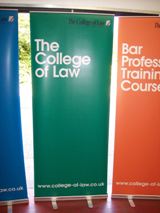 A banner stand is a simple and very effective way to present your message. This display method is not only easy to setup but is also very lightweight and easy to transport. Banner stands can also be used in conjunction with curved systems to give additional or specialist information. Some of the key benefits are:-
HIGH VISUAL IMPACT

HIGHLY PORTABLE

VERY SIMPLE TO ASSEMBLE

ECONOMICAL
All of our graphic panels created for banners include full colour high quality printing and are made from a flexible and hard wearing material. For further details on graphics please see our Graphics page.
Technical Tip:-
Whilst banner stands are not as professional as the curved pop-up frame system, they are ideal for small events and where space is at a premium.

Banner Types
There are numerous types of banner stand available but two of the most popular are detailed below.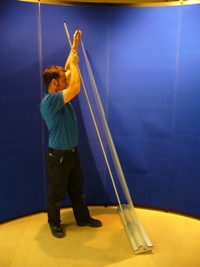 Roller Banner
These are the easiest type of banner to setup as it simply involves pulling the graphic out of the base and clipping to the top of a metal pole. Dismantling the banner is just as simple as the tension on the graphic means you just need to let it roll back inside the base.
Sizes available include:
850mm x 2000mm
1000mm x 2000mm
1000mm x 2100mm

Penguin Banner Stand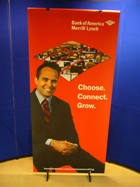 The frame is assembled in a matter of seconds. The graphics can then be hung on to the frame to provide an instant display. After use the complete system packs down into a portable carrying bag.

Frames (complete with carrying bag) are available in the following sizes:-
850mm wide x 2000mm high
800mm wide x 2200mm high